BAZIS system
BAZIS system is the only domestic computer-aided design system that is able to solve the problem of furniture enterprise integrated automation.
The system modules involve all the stages of furniture production:
orders receipt
modeling, design and documentation generation
materials cutting
control programs creation for CNC machines
technical-economic calculations
material supply of production
production areas work optimization
ready product packing and selling.
Capabilities
Application expenses optimization.
BAZIS system has module structure. Each program module automates areas work and it can operate as a stand-alone application as well as in a single complex.
Modules number and configuration is specified separately for each particular enterprise. They can be used for common installation to computer or in On-Line mode with actual operating time payment. It allows to automate the process step-by-step starting with the most problem areas distributing energies and resources reasonably.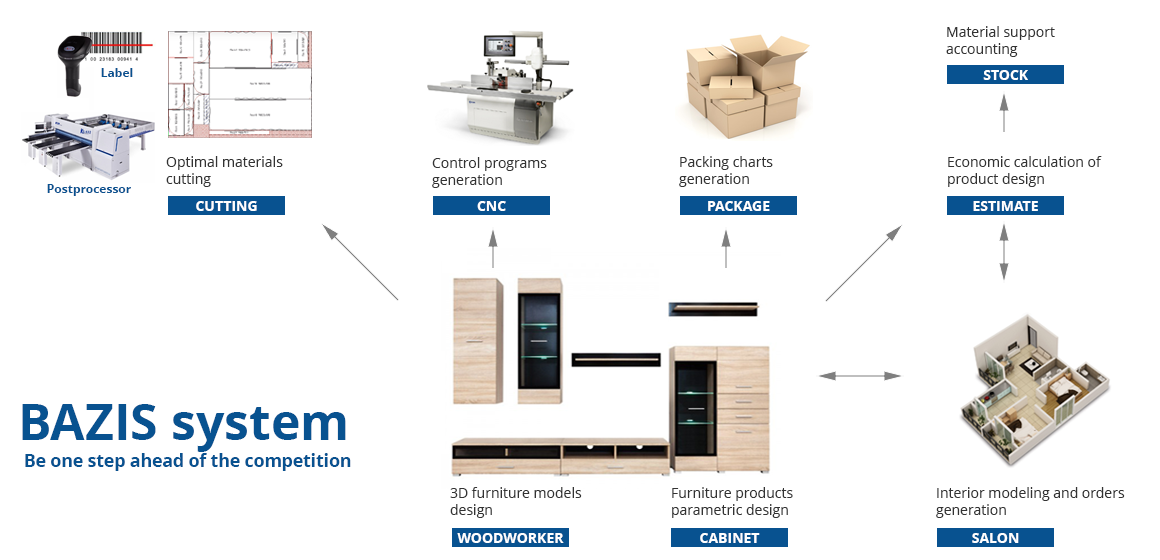 Furniture models fast design.
The system kernel is BAZIS-Woodworker module. It is a specialized graphics editor that allows to design 3D furniture models of any complexity.
BAZIS-Cabinet graphics editor serves for fast models creation on the basis of standard templates.
Both modules work independently but they are closely connected with each other and they create a software complex of fast cabinet furniture design.
Real saving of materials and resources.
BAZIS-Cutting module is a program of material cutting optimization that has no analogues in functionality.
Cutting area is a «heart» of furniture production. BAZIS-Cutting module allows to create cutting charts for enterprise efficient work. These charts save materials and much cutting time, decrease cutting work content and optimize the whole production process.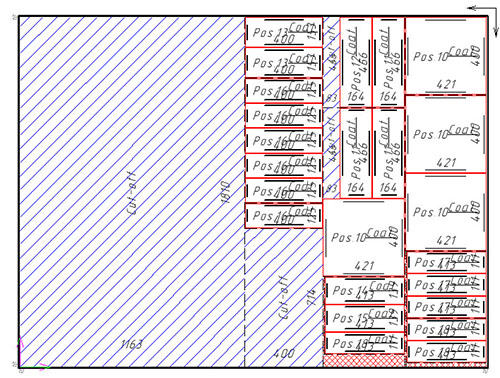 Production material supply and precise costs calculation.
BAZIS system is much more than a system of computer-aided design. It includes BAZIS-Estimate module that allows to calculate automatically full costs of product production by particular enterprise methods.
BAZIS-Stock module specifies necessary materials and parts in stock and also generates a purchase list. Necessary data can be exported to bookkeeping systems for connection with control systems.
Production automation.
BAZIS-CNC module allows to create control programs fast and precisely for all widely used saws and milling machines.
All necessary information is imported automatically from a product model or a draft. Control programs are generated in control system codes. They can be directly loaded to a machine via simple scanning of label bar code on a panel.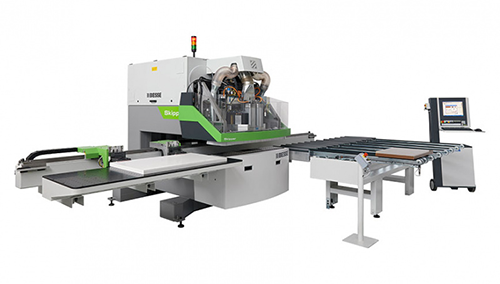 Long-term mutually beneficial cooperation.
«Bazis-Center» specialists have been designing and selling software for more than 30 years. Great experience has been gained at that period and it has been used as the basis for the best system of furniture enterprises automation – BAZIS system.
All the modules are accompanied by documentation of high quality. There is a great number of developed tutorials and videos for learning the system functionality. The users can get efficient technical assistance of system application and use from technical support specialists and it is also possible to be trained in specialized computer class or during regular webinars.
Simple installation and setup.
BAZIS system installation is the same as any other software and it can be fulfilled by enterprise specialists without designer assistance.
All the modules can be used right after installation. Material and operation data bases are filled according to developed methods.
There is a capability in BAZIS system to take particular enterprise specifics into account. The system can be easily setup by enterprise specialists.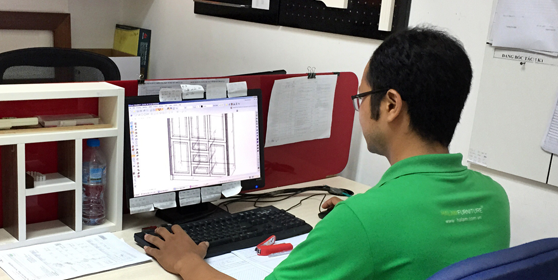 Efficient work with clients.
The most important task of any furniture producer is to persuade the client to buy the product. BAZIS-Salon module is capable of solving it very efficiently. It allows to model any room and arrange the furniture in real-time mode thus giving the client an opportunity to appreciate interior variants.
Application is convenient for furniture salon manager as well as for furniture designer.
Additional protection.
Additional protection of BAZIS system allows to restore license purchase in case of loss, key theft and other cases without giving the documents of force majeure circumstances.
Learn more >
Files encryption.
It is designed for BAZIS projects access restriction and it allows to save files in unique format available only for particular company specialists.
Learn more >