BAZIS-Cutting
It is universal software for automatic material cutting that combines unique algorithms of sheets arrangement optimization, cutting charts development and close integration with production machinery.
Module capabilities
Furniture enterprise peculiarities consideration.
Traditional criterion of cutting charts effectiveness based on material consumption coefficient increase is no longer prior at modern furniture enterprises equipped with high-productive saws.
New trends in material cutting automation, fulfilled in BAZIS-Cutting module, lead to operation work content decrease, equipment effectiveness increase, and other production steps balance.
Learn more >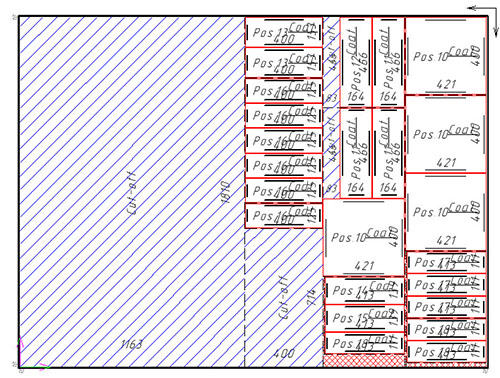 Universality.
BAZIS-Cutting module can be used at any furniture enterprise as a part of BAZIS complex automation system as well as a standalone application.
It is a universe means of materials cutting automation that implements original multiobjective optimization algorithms.
Learn more >
New trends in material cutting.
BAZIS-Cutting realizes effective optimization algorithms and wide range of technological settings on a par with diverse capabilities that allow to improve cutting charts as well as the whole furniture production process.
Main capabilities include technologies of cascade cutting, fixed cutting level, parts stacking, phased strip cutout and cutting buffering.
Learn more >
Work with labels.
BAZIS-Cutting module implements paperless production technology. It involves preparation and printing of bar-code labels for each cutting part.
Bar-code use allows:
to increase information awareness of furniture designers and producers;
to save operating time;
to increase parts accurate and fast identification;
to automate data aggregation and analysis;
to exclude human factor influence.
Learn more >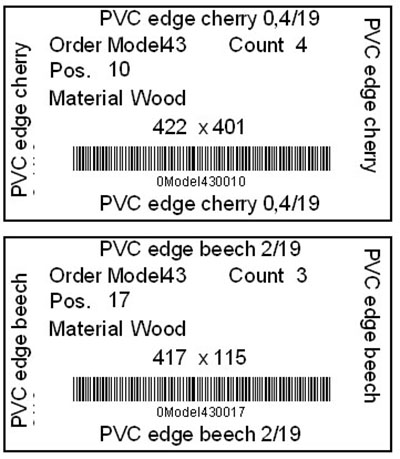 Information generation and transfer to saws.
Saws main advantage is cutting accuracy that completely eliminates human-factor production rejects. Besides, saws allow to cut boards in volume, optimize production space and provide flexibility of production.
BAZIS-Cutting module supports all machine types used at Russian furniture enterprises.
Learn more >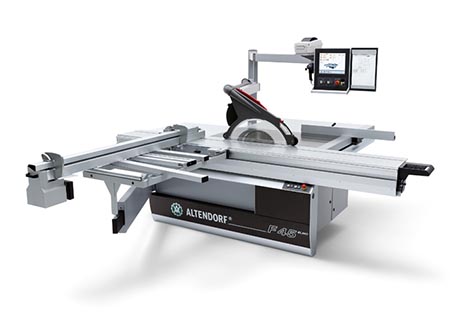 Cutting simulator.
This is unique software, designed by «Bazis-Center», allows to turn general mechanical panel sizing saws into CNC machines by their effectiveness.
Such «transformation» cost is much cheaper than CNC machine cost.
Learn more >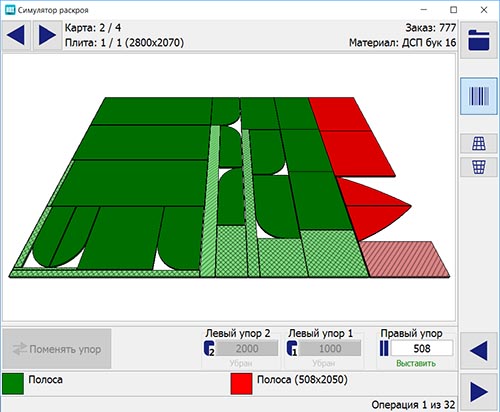 Cut-offs use and accounting.
Cut-offs use is very efficient way of material saving. However it demands some overhead expenses, e.g. cut-off of necessary size search in stock.
Time-consuming operations with cut-offs may nullify material saving effect. Thus special organizational and software solutions are required. BAZIS-Cutting module contains all necessary means for cut-offs effective use.
Learn more >
Cut-offs amount drastic reduction.
Undoubtedly, maximum cut-offs use is the best way of material saving. However, it is much better to minimize cut-offs amount or get rid of them at all. BAZIS-Cutting module provides special solution for it.
Learn more >
Nesting technology support.
Nesting technology is widely spread in furniture enterprises and requires complicated and expensive software for shape cutting that takes equipment and technological peculiarities of material processing into account.
BAZIS-Cutting module supports original mechanism of Nesting technology in basic package.
Learn more >